Grown, milled, and dyed entirely within the state of Colorado
The San Luis Valley line of worsted weight yarns is Chelle Colorado's first custom-spun yarn: grown, milled, and dyed entirely within the state of Colorado. Named for the area where the Merino sheep for this yarn are raised (and where a branch of Michelle's family has its roots), this yarn is cleansed with gentle detergents and dyed with vinegar-fixed professional dyes. This wool has not been exposed to the chemicals that dissolve vegetable matter. All these processes make a springy, soft 2-ply yarn, dyed in tonals and analogous colors to make your lace and cable patterns stand out, with a low carbon footprint for a textile. 3.2 oz/92g, 170 yds/155m. Knitting: size 7 – 9 needle, 16 – 20 sts/4in.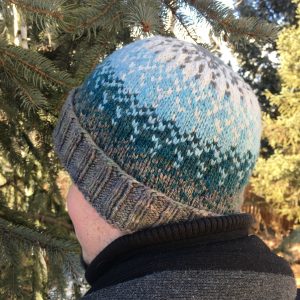 Free pattern ($5.00 value) with any purchase of 3 or more skeins: Logan's Hat
An easy colorwork hat pattern! Blocked project fits up to a 22-inch circumference head; directions are included to alter the size to any circumference you need. The colorwork is positioned so that the flipped-up brim doesn't hide your colorwork knitting. Worked up in super-soft San Luis Valley worsted weight yarns, this quick-knit hat will make a lovely gift. Pattern will be automatically shipped with purchase; no need to add to cart.