Grown and dyed in the state of Colorado
The San Luis Valley 3-ply line of worsted weight yarns is Chelle Colorado's next-generation custom-spun yarn: grown in the San Luis Valley area of Colorado, milled in Wyoming, and dyed in Westminster, Colorado. Named for the area where the Merino sheep for this yarn are raised (and where a branch of Michelle's family has its roots), this yarn is cleansed with gentle detergents and dyed with vinegar-fixed professional dyes. This wool has not been exposed to the chemicals that dissolve vegetable matter, but it's smoother, with less veg matter, and rounder than its 2-ply sibling. All these processes make a springy, soft and strong 3-ply yarn, dyed in tonals and analogous colors to make your lace and cable patterns stand out, with a low carbon footprint for a textile. 3.5 oz/100g, 150 yds/137m. Knitting: size 7 – 9 needle, 16 – 20 sts/4in.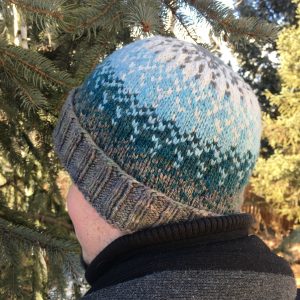 Free pattern ($5.00 value) with any purchase of 3 or more skeins: Logan's Hat
An easy colorwork hat pattern! Blocked project fits up to a 22-inch circumference head; directions are included to alter the size to any circumference you need. The colorwork is positioned so that the flipped-up brim doesn't hide your colorwork knitting. Worked up in super-soft San Luis Valley worsted weight yarns, this quick-knit hat will make a lovely gift. Pattern will be automatically shipped with purchase; no need to add to cart.